WE ACCEPT EBT , WIC , CASH , CHECKS , DEBIT , CREDIT !!!!!
We Accept Debit / Credit / Checks / EBT / WIC
Save Money on Groceries in Macon!
At Shoppers Value Foods, we do things differently than other grocery stores in Macon, GA that saves you money. It's a volume thing and here is how it works....
We do our best to determine the cost of each item by the expense it takes to get the product from our warehouse to the shelf. Then when you get ready to check out, we add 10% for overhead and profit. That's it! And it can add up to real savings on your grocery bill.
Compare our receipt with the last store you shopped and you'll see the difference. Shoppers value Foods, We Make it Simple!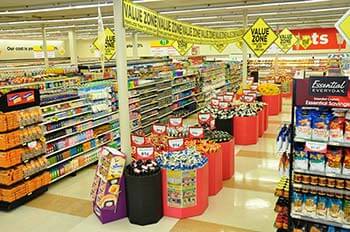 Extreme Value Zone
New Values Every Week!
1,000s of items all under a $1.00!
Check out our Value zone and 88 cent aisle for even more savings!
Meat Department
Save on Meat Without Sacrificing Service!
Here at Shoppers Value Foods we offer quality meat cut right here in our store, the old fashioned way!
We have meat cutters on site to help you get exactly what you're looking for!
Produce Department
Save On Quality Produce!
We offer Farm Fresh Produce, straight from the fields to our store.
Great Variety of the freshest seasonal fruits and vegetables available!
Fresh Produce, Unbeatable Prices!
Affordable Quality Products
Our private brand products match the leading national brands in quality and image, allowing you to purchase quality products at great savings compared to national brands.
You don't have to sacrifice taste or quality to save money with our private brands. Our array of brands headlined with Essential Everyday and Shoppers Value satisfy the needs of every budget-conscious consumer!